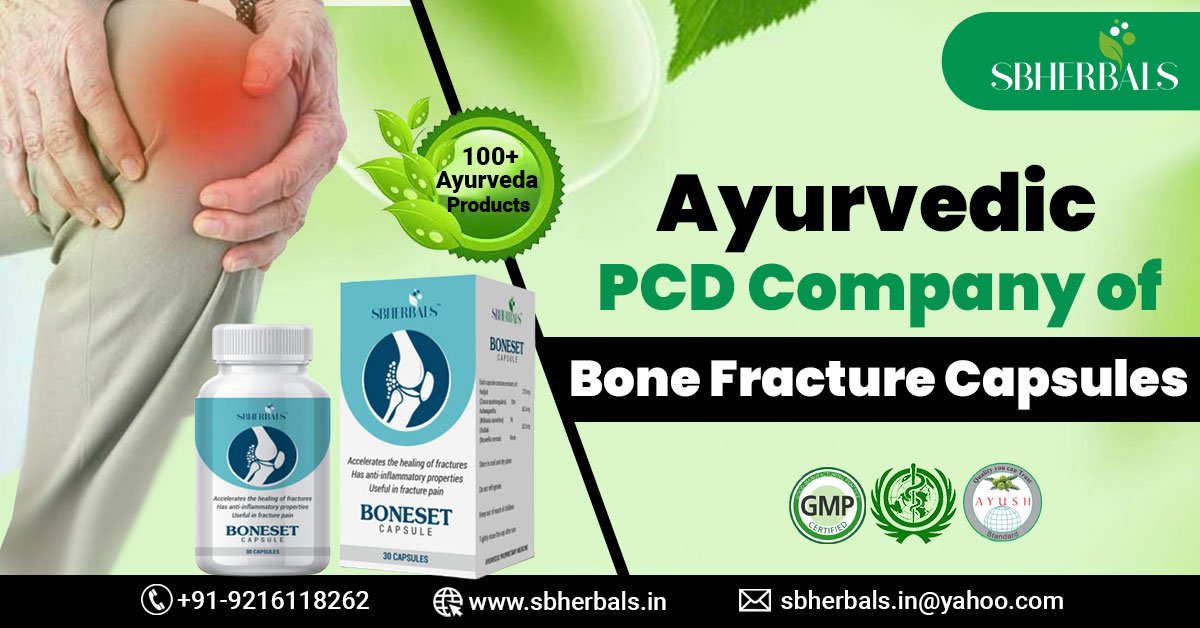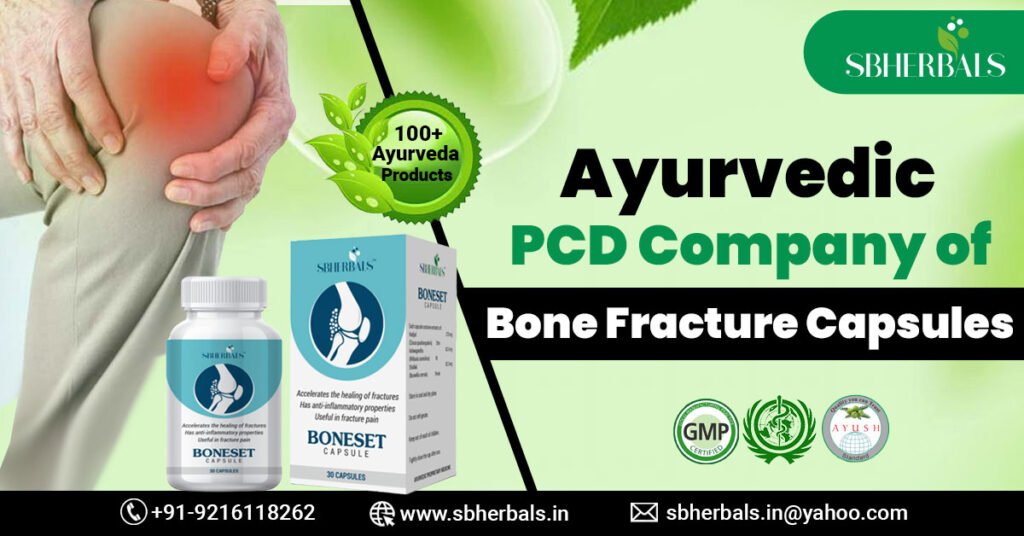 SB Herbals has 17 years of experience as the most trusted bone fracture capsules pcd company in India. We only use high-quality ingredients to make these bone fracture capsules and other Ayurveda products. It means that in terms of quality, we never disappoint our clients and always provide them with products at very affordable prices as well. In our company, we have a whole team of skilled employees to provide the finest range of Ayurveda medicine to our franchisees. Also, we have our own manufacturing unit where we have hi-tech machines set up, so all the work of manufacturing we can quickly handle. Along with bone fracture capsules, SB Herbals also offer pcd pharma franchise for Ayurvedic digestive appetizer syrup, psoriasis lotion, herbal pain killer oil, gastric & constipation powder, tulsi drops, onion hair oil, herbal eye drop, hair vitilizer spray, and many more.
As an Ayurvedic pcd company of bone fracture capsules, SB Herbals is a leading player in the Ayurveda industry. We specialize in the manufacturing and distribution of high-quality bone fracture capsules, catering to the growing demand for effective fracture healing solutions. With a focus on PCD (Propaganda cum Distribution), we offer lucrative business opportunities for aspiring entrepreneurs and individuals seeking to establish their presence in the pharmaceutical market. Partnering with us grants you access to a wide range of bone fracture capsules backed by extensive research and clinical expertise. Join hands with us to make a significant impact on the healthcare industry and contribute to the well-being of patients suffering from bone fractures.
Thus, if you want to get your own pharma franchise and want to join our best ayurvedic pcd company of bone fracture capsules, then you don't need to wait anymore, just call SB Herbals.
SB Herbals provides the Most Demanding Ayurveda & Herbal range of Products
SB Herbals is known for providing the most demanding ayurvedic bone fracture healing capsules and the best franchise opportunities. Our company offers more than 100 categories of products, which are the most demanding in the Indian pharmaceutical market. All healthcare professionals and physicians strongly endorse our products, and even our whole product line has been authorized by the world's major health organizations. The WHO, ISO, AYUSH, and GMP are such leading names who have given their approval to us that we make only quality-assured products.
The Offered Ayurveda Formulations for Our Pcd Franchise Partners
Tablets/Capsules
Syrup/Drops
Cream/Lotion
Powder/Granules
Pain/Hair Oil
Sexual Wellness Products
Herbal Digestive Appetizer Products
Most important Advantages Given by the Top Herbal Bone Fracture Capsules Pcd Company
As a trusted herbal bone fracture capsule pcd company in India, SB Herbals is offering numerous benefits to its pcd franchise associates. Let's check the advantages here:
1. Quality Assurance of the Products
Our company is always known to give 100% assurance of the quality of products. We have a special arrangement for production in which we have fully skilled and experienced pharma product manufacturing employees. They are dedicated and have given their services for several years to us. Also to give their help we have fully automatic machines to produce tons of orders at a time. Thus, we never minimize the quality level of the products and this is why we have received the GMP, ISO, AYUSH, and WHO approvals.
2. Ownership Rights of the Franchise Model
The monopoly is the most essential benefit we completely provide to our franchise holders. This allows you to freely sell your product line without facing considerable competition. After securing such rights, you will be able to create leads for your firm and pique the curiosity of clients.
3. Future Elevation
This industry's future is bright, which is one of the reasons you should consider starting a firm in this sector. Here, you may simply make your own selection based on the market's future and your personal requirements. Only you may freely expand the size of your franchise firm if you see correct and then you can enjoy more business chances. Remember, when it comes to investing in an herbal pcd pharma franchise corporation we provide the best possibilities.
Click Here to Get Ayurveda Products List for Franchise Business
4. Exciting Bonuses Policies
On various occasions, we present incentives and gift certificates to our business colleagues in order to motivate and boost them. It motivates them to increase the level of their performance and get amazing rewards from us.
5. Locations that are Scalable
When you become part of our company, you will be able to make all the decisions, like choosing the location for your franchise. Rather, we also help our franchisees choose the locations for their businesses that are fully scalable and helpful to expand their firm.
6. Capitalism with the Lowest Investment
SB Herbals will cover your initial expenses and other expenses. Also, we will supply you with extensive links to physicians, medical centers, and hospitals to help you get started. Finally, you will be able to obtain substantial resources to build your firm at a low cost of investment.
Some other factors you should consider before joining us
There are some other advantageous benefits of our firm that will surely convince you to choose only SB Herbals a top Ayurvedic pcd company of bone fracture capsules.
1. Manufacturing facilities that are both well-equipped and sterilized.
2. The company's preferred source provides raw materials and other chemical components.
3. GMP, WHO, and ISO certifications have been granted to the production units.
4. To our franchises, we give them a complete kit of the promotional tool in which we give them MR bags, pens, diaries, free samples of products and so many others.
5. The development of novel medication formulations is the responsibility of a highly trained and skilled professional team.
6. Product quality is determined by quality characteristics such as purity, efficacy, adverse effects, and ph value.
7. Airtight packing material is utilized to ensure the product's efficiency and longevity.
8. All inventories are delivered on schedule. If our customers have any issues regarding our services, they can contact us at any time.
Conclusion
So, joining hands with the leading herbal pcd franchise for bone fracture capsules will be beneficial for an Ayurveda expert. Grab the opportunity with SB Herbals Private Limited. We will surely give you the guarantee that for the development of your franchise business, we will always be ready to help you. To get more details about us, just fill contact form now. Experience growth, profitability, and success with our bone fracture capsules pcd company as SB Herbals work together towards a healthier future.