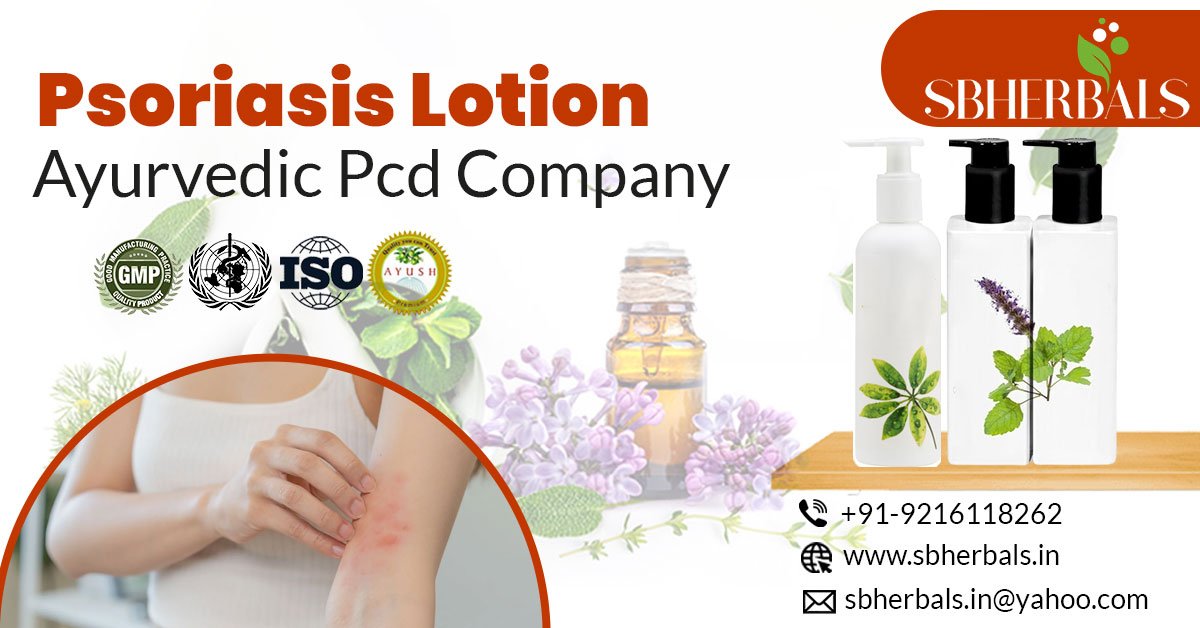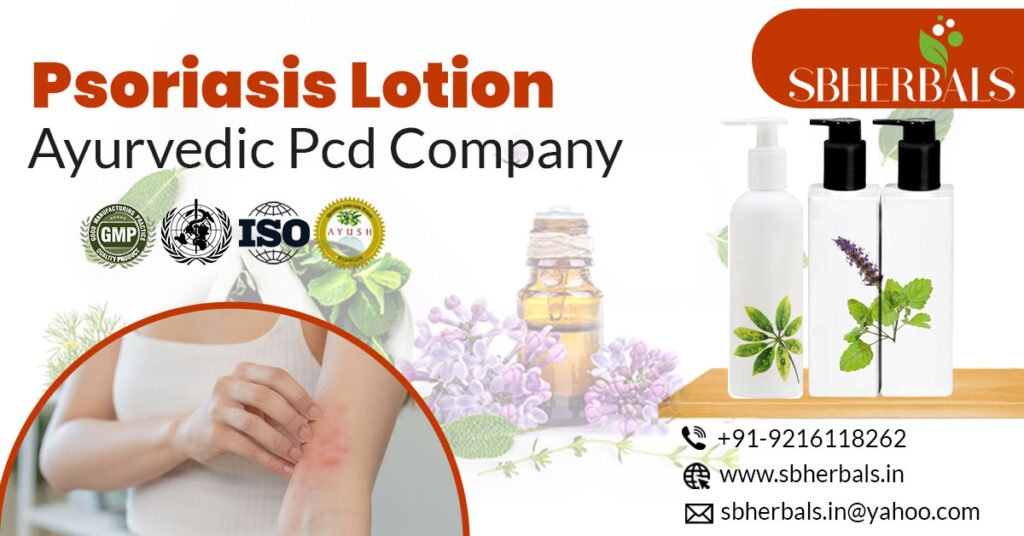 SB Herbals: Revolutionize Psoriasis Treatment with Ayurvedic Psoriasis Lotion: Partner with a Leading PCD Pharma Company in India
Pharma Franchise for Psoriasis Lotion: SB Herbals has more than 17 years of experience and knowledge as India's top psoriasis lotion pcd company. We are known for offering the best Ayurvedic franchise opportunities for psoriasis lotion across India. The main factor in our company's success, particularly, is that we offer the best quality range of AYUSH-FSSAI-certified Ayurveda products to all our franchise partners. To provide this exclusive range, we manufacture them with the proper care techniques. For this purpose, we have a skilled manufacturing team in our plants. With the help of the new age automatic machines, they can produce the maximum number of orders at a time, so we can quickly deliver to our clients. Moreover, they are all WHO, ISO, and GMP approved, which means they are fully guaranteed.
Along with the psoriasis lotions range, SB Herbals is providing manufacturing and marketing of 150+ herbal range medicines. Our offered herbal range includes Bone Fracture Capsules, Gas and Constipation Powder, Platelet Increase Tonic, Digestion Syrup, Herbal Eye Drops, Onion Hair Oil, etc.
Want to establish your own Ayurveda franchise company? Searching for a leading herbal medicine pcd company for pharma franchise for psoriasis lotion in your region? For this, SB Herbals will be a leading choice for you. Connect us through phone call at +919216118262, or just drop us an email at sbherbals.in@yahoo.com.
SB Herbals: Your Best Guide to Choosing the Right Psoriasis Lotion PCD Company
When it comes to choosing a reliable pcd company for psoriasis lotions, SB Herbals stands out as a trusted and experienced name. With years of expertise in the pharmaceutical industry, SB Herbals has established itself as a leading provider of high-quality AYUSH-FSSAI-approved skincare products.
Get associated with Useful Psoriasis Lotion Pharma Franchise Company
Moreover, psoriasis lotions help with mild psoriasis symptoms. It is also used in other treatments because it enables a person to immediately administer medicine to the afflicted region. Also, it softens the skin, allowing other drugs to permeate deeper layers of the skin. In India, there are very few pharma franchise companies that deal in these products. But we offer this with a complete quality guarantee and at affordable prices. Today, we are giving this product range and other products to more than 250 operational cities throughout India.
Hence, if you also want to be part of our franchise business and be the top pharma franchise for psoriasis lotion, then just unite with only SB Herbals.
Provided Perks &Benefits to its pharma franchise partners for psoriasis lotion range by SB Herbals
1. High-quality products: We specialize in anti-inflammatory lotion franchise and provide high-quality products to our clients that are particularly developed to ease psoriasis symptoms. To assure the quality of this product, it is subjected to rigorous testing and tight quality control techniques.
2. Expertise and knowledge: SB Herbals has a thorough grasp of the disease and its required medicines. So, we have a team of professionals, such as dermatologists and scientists, who are familiar with the condition and advise us on the best products and treatment methods. Thus, we can produce the best quality product.
3. A variety of options: As a leading Ayurvedic lotion franchise in India, our company provides a varied selection of psoriasis lotions. It allows our franchise partners to select from a variety of formulas and strengths based on their consumers' individual needs.
4. Marketing and promotional assistance: We offer marketing and promotional materials such as brochures, product samples, and educational tools to assist our franchisees in raising awareness of psoriasis and its treatment choices. These resources have proven quite beneficial for them in terms of educating their customers.
5. Distribution network: Our Company has a large distribution network that guarantees our products are easily accessible across a large geographical area. This extensive availability improves access and convenience for people in need of psoriasis creams and also helps to increase our client's business.
6. Business prospects: We also always provide appealing business prospects to those who want to become franchisees or distributors in the pharmaceutical sector. This allows entrepreneurs to start their businesses while benefiting from the reputation and support of our company.
7. Training and assistance: Being an Ayush-approved Ayurvedic medicine pcd company, we provide special personnel training programs to our franchise partners as well as continuing assistance. This includes product training, updates on the most recent products of our company, market analysis, and so on.
What are the Documents Required for the Acquisition of SB Herbals for Anti-Inflammatory Lotion Franchise in India?
The following documents are necessary to get SB Herbals pharma franchise:
1. Applicants should have a valid drug license
2. They have to be members of the state pharmacy council
3. Tax identification number (TIN)
4. Tax Registration
5. Investment and funding plan
6. Franchisee disclosure form
7. Franchise agreement operations manual
8. Franchise registration notices and applications, and so on.
Select the Best AYUSH Certified Ayurvedic Lotion Franchise in India: SB Herbals
SB Herbals has been a highly experienced pharmaceutical franchise organization in India for many years, and we are presently regarded as the fastest-growing Ayurvedic Lotion Franchise in India. Because of the great quality of our products, our company has received ISO, AYUSH, WHO, and GMP certifications. We believe in the expansion of the pharmaceutical industry and strive to provide the most comprehensive list of pharmaceutical products in the country. Also, the goal of our company is to reach the Indian pharmaceutical sector on a worldwide scale.
Conclusion
As you have seen, we have discussed the top herbal medicine franchise company, SB Herbals, which deals in the best quality psoriasis lotion range. Thus, if you are ready to get the leading ayurvedic lotion franchise in India, just join us now.
Important FAQ's
Q. Who has the greatest anti-inflammatory lotion franchise in India?
A. SB Herbals is a well-known pharmaceutical franchise company that provides the highest-quality anti-inflammatory lotion to its franchisee partners.
Q. What are the applications of psoriasis lotion?
A. It is specifically used to treat mild to severe psoriasis in the majority of body locations. The therapy alleviates inflammation.
Contact SB Herbals:
Address: Plot no 181/39, First Floor, Phase 1, Industrial area, Chandigarh – 160002
Mobile: +91-9216118262
Email Id: sbherbals.in@yahoo.com
People Also Search:
Redness & Scaling Lotion Herbal PCD Company
Ayurvedic Lotion for Redness & Scaling Lotion
Ayurvedic PCD Company of Redness & Scaling Lotion
PCD Franchise Company for Redness & Scaling Lotion
Herbal Franchise Company for Redness & Scaling Lotion